Plant a Tree
The De Pere Forestry Department fosters the continued growth and care of tree life within the City of De Pere. As part of this, we welcome and encourage our community's residents and businesses to join us in adding more of these wonderful natural resources into our community. By working together to plant new trees, we can ensure De Pere's remarkable urban forests are sustained in a responsible manner for generations to come. Here are just a few ways you can add trees to your property or community spaces throughout De Pere:
---
AT HOME:

Parkway Tree Planting Program
A home's parkway is the stretch of grass between your sidewalk and the road, sometimes referred to as a "terrace." If you're interested in having a tree planted in this space in front of your home, we can help. Part of our ongoing street tree planting program includes planting trees by request for residents who are willing to water them once planted. If there is adequate space in your parkway and no other major site limitations (utilities and other obstructions or issues), chances are good that we can plant.
In most cases you can select the species to be planted from a list on the order form that is available in spring and fall. Spring tree orders will typically be accepted the end of February through the end of March. Fall tree orders are accepted typically from August through the end of September. Any questions can be directed to the City Forester at (920) 339-8362 or dmelichar@deperewi.gov. *It should be noted that De Pere has an ordinance limiting homeowner plantings in the terrace or on any City right-of-way and requires you to fill out a ROW Planting Permit. If you have a question or concern, please contact the City Forester at (920) 339-8362 for clarification.*
If there is an active application period open at present time to request a parkway tree, you'll be able to find forms at the links below:
Spring Tree Order Form (not active)
Fall Tree Order Form (not active)
---
IN A PARK:

In memory/honor of a loved one
Memorial Tree Planting Program
The City of De Pere has a program that lets you honor a special person or persons through the living gift of a tree. You can request to "donate" a tree or trees that would be planted in the park of your choice as a memorial. Click here for more information on De Pere's Memorial Tree Program.
Jerry Hasenberg Jr. Memorial Tree Fund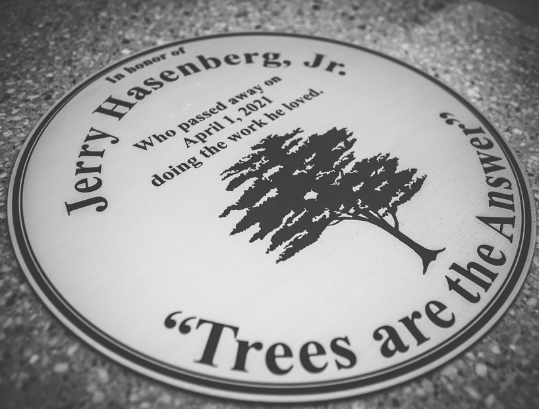 On April 1, 2021, the City of De Pere lost a valued employee, Jerry Hasenberg Jr., in a tragic work place accident. To honor Jerry as a valued employee, co-worker, arborist, and friend, the City has launched a memorial fund in honor of Jerry and his life's work as an arborist.
Residents, community members, and friends may contribute to the Jerry Hasenberg Jr. Memorial Tree Fund, which will go directly to planting trees throughout the city's park system and green spaces.
Jerry was often quoted as saying "Trees are the answer" and wanted nothing more than the City to be filled with trees. All contributions to the Memorial Fund will go directly toward planting trees within the City of De Pere to honor Jerry's life work and mission.
Checks can be mailed to the Municipal Service Center, Attn: Jerry Hasenberg Jr. Memorial at 925 S. Sixth Street, De Pere, WI 54115.
Donations can also be made online at this link.
---
IN PUBLIC PLACES:

Urban Orchards
De Pere's Urban Orchards program began in 2016, and has now brought over 80 trees and a total of 8 different orchards throughout our community (each featuring a mix of apple, pear and plum trees). These Urban Orchards are free to use, and ensure anyone can get access to fresh and organic fruit in our community. If you or your group or business is interested in helping fund the planting of more trees and orchards in this program, click here for more information on our Urban Orchard program.
Contact Us
925 S Sixth
De Pere, WI 54115