Park Playground Program

De Pere Park Program - ditch the digital brain drain
Outdoor play is important for kids! It improves attention spans, problem-solving skills, creative thinking, and reduces stress! And, it just so happens to be tons of fun, too. So let's replace swipes with slides; log-ins with lawn twister; and clicks with crafts and games. Ready? Let's do this.
NOTE: Due to COVID-19, despite our best efforts, please note that information presented here may not necessarily be current and is subject to change at any time. Our program offerings or events may be postponed, cancelled or held with altered procedures to reflect changing state & local safety requirements. Call (920) 339-4097 if you have questions.
The basics
De Pere's Summer Park Program provides safe, supervised, structured and FUN activities for children 6-12 years old. This is a drop-in program where kids can come and go as they please and attend any park. Park Leaders help kids make memories to last a lifetime!
Something for everyone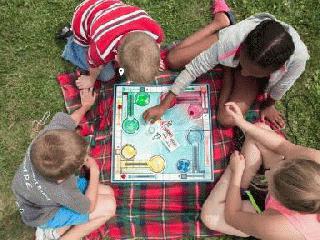 Summer fun isn't one size fits all. Each day, programs are tailored to keep kids interested and engaged. Water games. Board games. Sports. Artsy Kids? Come one. Come all. We've got you covered. Here's just a few of the activities available throughout the summer:
Fluffy Slime
Shaving cream games
Giant Bubbles
Capture the Flag
Relay Races
Giant Lawn Twister
Slip-n-Slides
Water Balloons
Wacky Science Projects
Paper Airplanes
Kites
Pinatas
Marshmallow Baseball
Tie-Dying,
Statue in the Park
And much, much more!
Livin' the theme
In addition to the awesome daily activities in our Park Program, there are special themes each week that provide an extra layer of planned fun, including Art Week, Wacky Science Week, Sports of All Sorts, Water Week, Carnival Week, and more!
Locations
Brashier Park
Patriot Park
Optimist Park
Kiwanis Park
Times
Monday- Fridays
Mid June - mid August
9 a.m. - 12 p.m.
12:30 - 4 p.m.
Important notes
Must be ages 6-12. Program is NOT a substitute for childcare. It is offered as a drop-in program. Staff supervise registered children for scheduled activities but are NOT responsible for keeping track of children throughout the day. Children come and go as they please. Staff is not responsible for providing activities for non-registered children.
How to sign-up
CALL: (920) 339-4097
IN-PERSON: De Pere Community Center (600 Grant St.)
Register anytime in summer. Sorry, no registrations accepted at the parks!