Tumbling

Lllllleeet's get ready to tumble!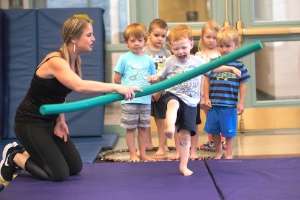 Using creative movement to teach young children important fundamental skills like jumping, kicking, rolling, climbing, striking, bouncing, throwing, catching ... and tumbling ... and giggling, De Pere's tumbling classes are a phenomenal way to help your child develop new skills in a positive, fun-filled environment. Classes also encourage the development of coordination and balance, listening skills and social interaction.
Tumbling classes in De Pere are available for kids as young as 1 1/2 years old, with additional tumbling classes aimed at older age groups (including ages 6+). Classes are mostly held at the De Pere Community Center.
Ready to get started? Or have questions?
You can sign-up and view dates, times and details for upcoming De Pere tumbling classes here!
If you have questions about our offerings, give our De Pere Parks, Recreation and Forestry Division a call at 920-339-4097. We're always happy to help! We also encourage you to follow our De Pere Parks, Recreation & Forestry Facebook page, which is an excellent source for updates and information on all our upcoming activities, programs and events: