Camps & Workshops

Workshops, camps & fun, oh my!
The De Pere Parks, Recreation & Forestry offers a wide array of camp and workshop opportunities for local youth, including our popular Summer Camp program, which runs from June through August; and numerous one-week camps or even one-day/night workshops throughout the year for various interests such as chess, robotics, sewing and many other fun topics!
One-time Workshops & Weeklong Camps
Want to decorate cookies, learn to sew, build with Legos, play chess, build signs and learn other fun skills? Whether you're looking for a one-night activity with family or friends, or you'd like to enroll your child in a week-long program of learning and fun, we've got you covered! To view or sign-up for upcoming workshops and camps happening at the De Pere Community Center (600 Grant St.), click the link below:
VIEW UPCOMING ONE-TIME WORKSHOPS & WEEK-LONG CAMPS
Summer Day Camp
The De Pere Summer Day Camp is offered at two locations: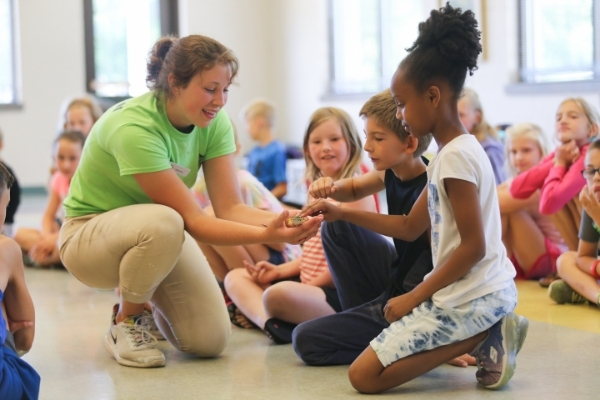 West side: De Pere Community Center (600 Grant St.)
East side: Dickinson Elementary School (

435 S Washington St.)
Our Summer Camp offers fun and exciting weekly themes planned all summer long for children ages 7-11. Campers will experience a variety of different activities such as cooperative games, sports, fitness, arts-n-crafts, swimming, playground activities, field trips, free play, special guests & more! Most camp days will run from 9:00 am to 4:00 pm with before and after camp care available. You may register for as many weeks of camp as desired. Payment plans available.
It's the perfect summer program for working parents or for kids who are "bored" during the summer! Best of all, now your child(ren) can take part in Summer School and also attend Summer Camp. Kids will be able to explore, create, problem-solve, and most importantly have fun all summer long!
All Summer Camp activities will be staffed with ratios that meet or exceed state guidelines. All staff must go through a background check and thorough interview process. We strive to hire only the most enthusiastic, experienced and qualified staff that will be working with the children.
Summer Camp Details & Registration
To view more details, pricing, frequently asked questions, and registration forms related to De Pere Summer Day Camp, click on the link below:
DE PERE SUMMER DAY CAMP REGISTRATION & INFO PACKET (West Side)

DE PERE SUMMER DAY CAMP REGISTRATION & INFO PACKET (East Side)
Additional information and updated forms for the coming year will be posted on this website in December. Feel free to call the Community Center at (920) 339-4097 if you would like to be put on an interest list so that you may be contacted as soon as information is available. Walk-in registration begins 7:30 am on the 2nd Wednesday in February.
Space is limited so don't delay!
Contact Us
925 S Sixth
De Pere, WI 54115