Water Meter Info & Guidelines
What do I need to know about new water & sewer hook-ups?
Click here:New Water & Sewer Hook-Up Information
How do I obtain a second water meter?
For installation of a no-sewage meter for outside water usage: The only option that De Pere offers residents to avoid paying sewage charges o water used for lawns, landscaping, filling swimming pools, washing vehicles, etc. is the permanent installation of a no sewage meter. Water lines in the home must be separated so that the outside water usage is measured independently from household usage. Separating the water lines can be done by a plumber or by the homeowner. The charge for installing a no sewage meter is $30.00. A water supply capacity charge also must be paid prior to installation. The fee for a meter under 1" is $294.00. Fees increase as meter size increases. With a no-sewage meter you save all sewage charges. There is also a quarterly meter fee based on meter size.
I'm having my house siding replaced. What do I do about the blue water meter register on the outside of my house?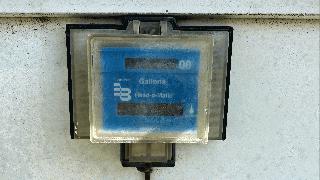 The outside meter register is obsolete and can be removed and destroyed.
There is no need to contact the Water Department when this is done.
More Water & Billing Resources
To monitor your water usage, learn about billing cycles, find out about water quality or inspections, and much more, visit the main De Pere Water Division website at this link.