The Riverwalk Experience

A walk to remember ...
Looking for a great way to get outdoors and spend time with family and friends? The De Pere Riverwalk & Wildlife Viewing Pier has you covered - whether its enjoying sunset views of the Fox River; walking along beautiful stretches of wild flowers; taking in a bit of local history with an up-close look at the Locktenders House; or observing a wide-variety of wildlife, including pelicans, wallaye, sturgeon, bald eagles and countless other fish and bird species.
So come, feel a rush of thunderous water under your feet as it flows over the dam, join the thousands of fishermen who seek out De Pere's Fox River waters for its renowned fishing experience, walk or rest along scenic views, and enjoy the natural splendor of De Pere; all while in walking distance of a community park and inclusive playground, trails, and Downtown De Pere's many shopping and dining opportunities.
Simply put, for our residents and visitors alike, the De Pere Riverwalk is a must-see local attraction.
Where Is It?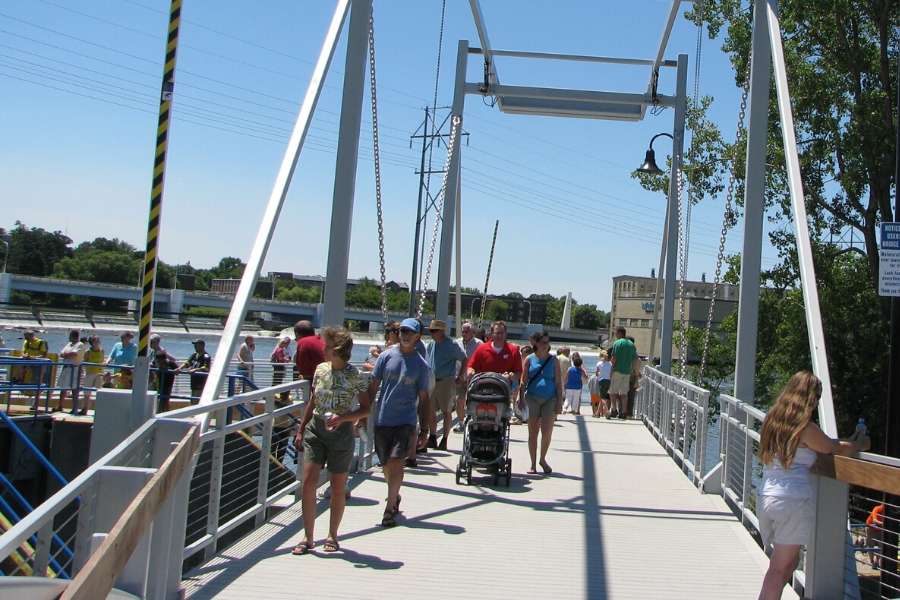 The project begins in Voyaguer Park, located at 100 William St, De Pere. From the park, it crosses a channel to Government Island and then runs south through the island to where the old Claude Allouez Bridge used to be. From this point the project ventures out into the Fox River as a viewing pier.
What Is It?
Viewing Pier
Fishing Pier
Island Pathway with lighting
Interconnecting walkway to downtown
Purpose:
Link rare wildlife and fish viewing opportunities to Downtown De Pere
Increase accessibility to the De Pere locks
Enhance existing tourism and activities
Promote family, embrace history, educate, embrace wildlife, grow economy/downtown
Videos of Riverwalk
General Overview:
Virtual Tour:
(The following video is a 360-degree, interactive video. You can click on/drag the video around to view different angles.)