Arts & Crafts

Arts, Crafts & Enrichment classes in De Pere!
From adults creating lifelike landscapes on canvas to little kids creating an abstract masterpiece with finger paint, to just about any art and craft project in between, De Pere Parks, Recreation & Forestry offers a wide variety of arts, crafts, painting and enrichment opportunities for all ages and abilities.
VIEW CURRENT CLASSES & PROGRAMS (Click here!)
Ignite your creative spark!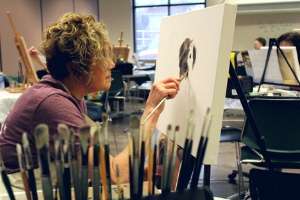 Perhaps you're a lifelong artist looking to connect with other creative souls and hone your craft further? Maybe you've got a toddler just learning about colors and shapes for the first time. Maybe you're somewhere in-between. Regardless, whatever your artistic talent level, everyone is equally qualified to create beautiful art in De Pere.
De Pere art classes, programs and events
Throughout the year, you'll find one-time events like sign-making workshops and cookie decorating nights; as well as ongoing programming and enrichment opportunities like stained glass, watercolor and studio oil painting classes for older adults and seniors. Beyond that, there are seemingly endless ways for youngsters to interact with and explore the arts in De Pere. Through our classes, there are opportunities for our youth to create drawings, sculptures, paintings, crafts, art projects, and, well, you get the idea! Regardless of your age or your talent level, you are welcome to join the affordable and fun opportunities waiting at the De Pere Community Center.
Ready to get started? Or have questions?
You can sign-up and view dates, times and details for upcoming De Pere art classes and events here!
If you have questions about our offerings, give our De Pere Recreation Division a call at (920) 339-4097. We're always happy to help! We also encourage you to follow our De Pere Parks, Recreation & Forestry Facebook page, which is an excellent source for updates and information on all our upcoming activities, programs and events.