Fitness

Fitness and exercise classes in De Pere
The De Pere Community Center is home to a wide variety of health, fitness, wellness and exercise classes for all ages and abilities. Class intensity ranges from peaceful and relaxing yoga sessions; to high-energy, cardio workouts set to music. The best part is, these affordable De Pere exercise classes are a great way to socialize, meet new people, and improve mental and physical health - all in a fun and supportive environment.
VIEW CURRENT CLASSES & PROGRAMS (Click Here!)
Yoga? Yes please!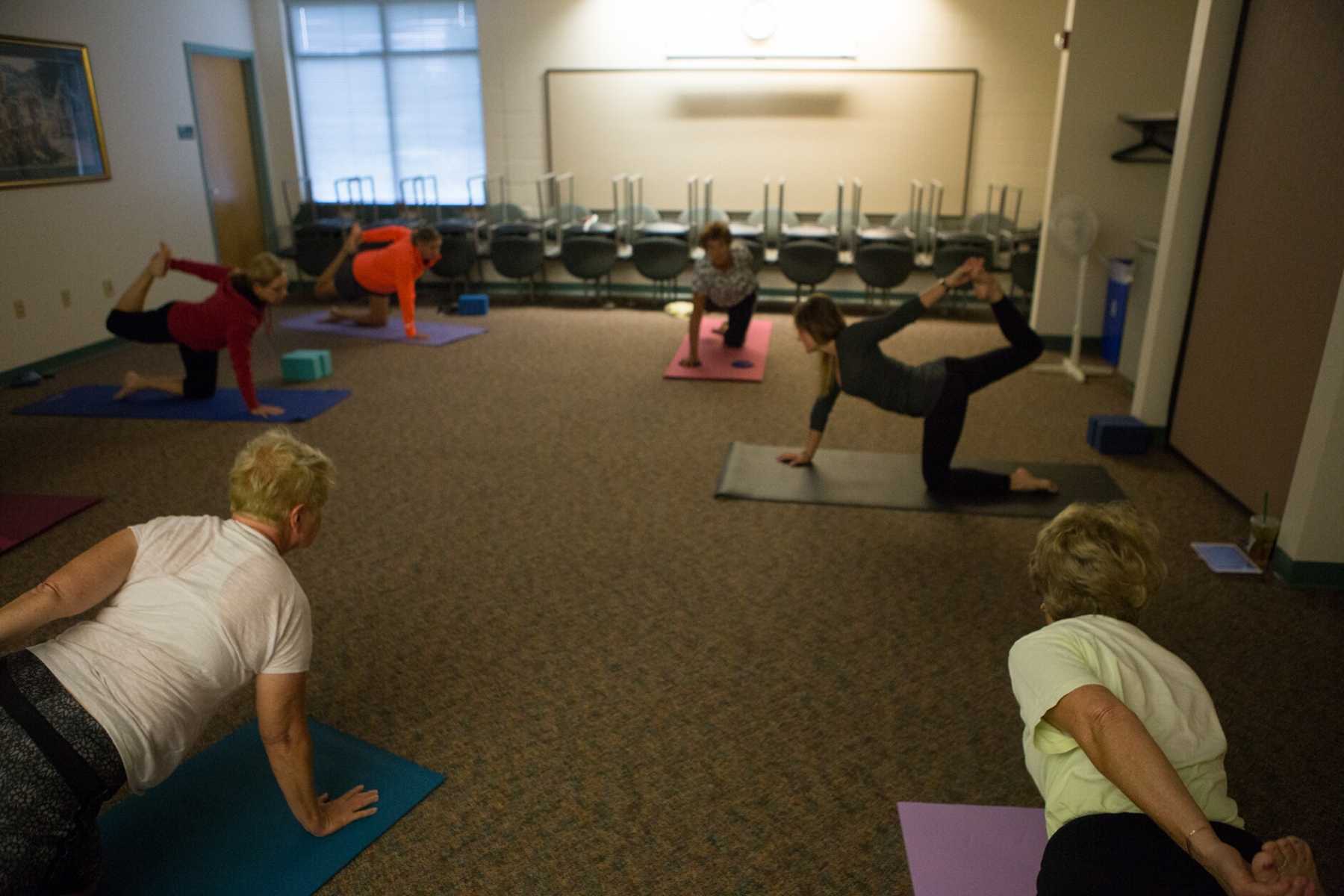 Looking for Yoga classes in De Pere? We've got that covered. WAY covered. There's options for everyone - from beginners to advanced yogis to those struggling with mobility difficulties, arthritis or joint injuries. We offer both Yoga for kids and Yoga for adults. Throughout all of our yoga classes, our goal is to promote mental and physical wellness; foster calmness, peace and strength; and, most importantly, have fun.
Looking to move? Try Zumba, Rockin' Workout and other cardio classes
Beyond more tranquil offerings like Yoga, we also offer an incredible variety of fitness classes in De Pere that can get you up-and-moving in exciting, dynamic ways. Want to jam out to music? Engage in cardio? Or how about learn new moves with Zumba? We have all that to offer, and so much more! Classes are designed to offer whole-body workouts with easy-to-follow moves that will help you burn calories in a fun, music-driven environment. For those seeking a more moderate pace or for those dealing with mobility issues or limitations, there are options for modified, low-impact exercise as well!
Make a splash with Water Aerobics!
Don't limit your fitness fun to just your opportunities on land. De Pere Parks, Recreation & Forestry also offers some awesome water aerobics opportunities throughout the year. To learn more about De Pere Water Aerobic Classes, click here.
Ready to get started? Or have questions?
Ready to begin a new, healthier chapter in your life? We're here for you. If you're more advanced in your fitness journey and looking to further develop your cardio, strength and overall fitness, we're here for you, too.
You can sign-up and view dates, times and details for upcoming De Pere fitness, workout and exercise classes here!
If you have questions about our offerings, give our De Pere Recreation Division a call at (920) 339-4097. We're always happy to help! We also encourage you to follow our De Pere Parks, Recreation & Forestry Facebook page, which is an excellent source for updates and information on all our upcoming activities, programs and events: