Dog Park

De Pere Dog Park: Oh, you lucky dog ...
Wide-open space to run and smell and roll and climb and jump? Check. A fun-filled place to meet new furry friends? Most definitely. Scenic woods to walk through and enjoy the beauty of Wisconsin's seasons - along with the companionship of your human buddies? Yep. The De Pere Dog Park gives "man's best friend" all that, and so much more! First opened in August 2011, De Pere's dog park is an excellent place for dogs of all sizes to socialize, explore, play and spend quality time with their owners. We hope you and your pets enjoy your visit to this beautiful, fenced-in facility, located at 1400 Biotech Way. Ready? Commence tail-wagging!
Endless pawsobilities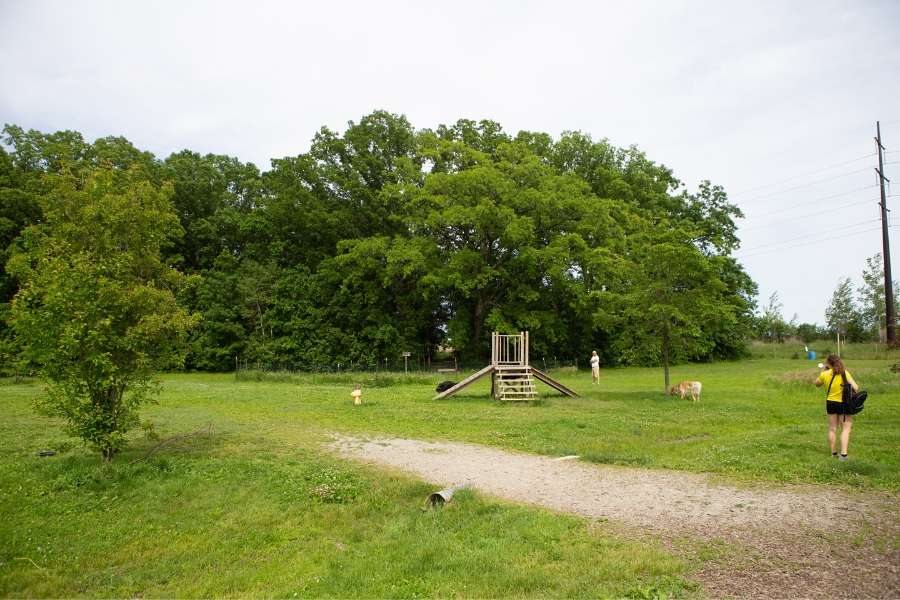 Whether it's an exhilarating chase of tennis balls and frisbees, a peaceful walk in the woods, or a playful day of climbing and navigating obstacles, there's something for every pooch at the De Pere Dog Park. Here's a look at some of the park's many amenities:
Six acres of fenced-in space to roam
Large dog area
Small dog area
Agility and exercise equipment
Wooded trails
Water
Paved parking
Open air shelter
Benches/picnic tables
Waste bag bins and disposal bins (for the dogs!)
Portable restrooms (for the humans!)
SPECIAL NOTE: Dog park rules are listed on site for review before entering.
De Pere Dog Park location
1400 Biotech Way, De Pere, Wisconsin
Donate to the De Pere Dog Park
Through community donations and the dedicated work of numerous volunteers and groups, the offerings to enjoy at De Pere's Dog Park have steadily grown over time. For those looking to contribute to the De Pere Dog Park, we greatly appreciate it, and there are numerous options available to you. These options range from simply making donations at the "donation box" at the park itself, to garnering naming rights for amenities through larger donations. All of the donations go directly into an isolated fund that is to be used for future improvements. Please contact the Parks, Recreation and Forestry Department with any questions you have about financially supporting the future of the De Pere Dog Park. We can be reached at (920) 339-8362 or through e-mail at mailto:dmelichar@deperewi.gov.
Other dog resources in De Pere

When you're not at the dog park in De Pere, here's a few other notable items to consider:
Dogs are permitted at these other De Pere Parks (must be leashed at all times, and waste removed): East River Trail, Voyageur Park and The Preserve.

The City of De Pere has a program that allows residents to help control geese in specific parks. This Goose Patrol Program allows you to take your dogs into one of several other parks to harass the geese. A vest is required for participation in the program, but is not provided by the city. Click here for more details.
Follow the Dog Park on Facebook: