Åmål, Sweden
Our Sister City: Åmål, Sweden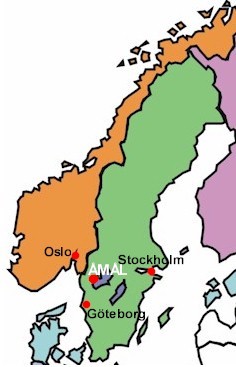 With just over 9,000 residents, Åmål, Sweden is nestled along the shore of Lake Vänern in southern Sweden. It features a lively historic community ­­­filled with galleries, parks, shops and more! Many recognize the town from a popular film (Show Me Love was the title used in England and the USA) which was an international success and shown in 25 different countries. We'll let you research the authentic title of the movie on your own! In 2002, Åmål won a competition and was named the best city center in Sweden. From the idyllic town to the rich outdoor life and the countless events, it is easy to enjoy all the beauty the region has to offer. A photo gallery at the bottom of this page showcases some of the beauty of Åmål.
Connection to Water
Lake Vänern is one of Åmål's main bodies of water and it plays an integral role in the community. No matter where you travel in the city, the water is never far away. The city center is filled with shops and restaurants with the main marina at the heart. Even though Åmål is almost surrounded by the Lake Vänern there are also many more lakes to see when you are in the municipality. During the summer months, the city is bustling with locals and visitors whom travel to Åmål by boat to enjoy the pleasant beaches, marinas and river walks.
Beauty of Nature
From fishing and canoeing along its many waterways to hiking and biking along its scenic trails, Åmål offers countless activities for nature lovers. Åmål has many parks with well-marked trails in both the city center as well as nature reserves to enjoy all the beauty the region has to offer. Hike to the highest Point in Dalsland, Baljasen or visit the scenic archipelago in Lake Vänern. With mountains, costal, forests and lakes Åmål is perfect for outdoor activities in any season.
Connection to Art
Åmål is known for its rich cultural life. The city features local artistry in many of its galleries and exhibits. Åmål's warmer months are filled with events, concerts, exhibitions and competitions.Their biggest event is the Åmåls blues fest - Sweden's premier Blues Festival. During the festival, thousands of blues lovers come to Åmål to enjoy the wonderful blues music performed by over 100 artists from the USA, Europe & Scandinavia. In addition, one of the most popular destinations is the artist colony Not Quite. The creative environment and feel of the old factory setting makes for a special place to see artists at work and have a delicious meal or to relax with a coffee and some delicious pastries baked in a wood-fired oven at Brukets Godaste.
Small Town Charm
With beautiful small shopping streets with cafes, quaint shops, and green parks, Åmål is full of small town charm. Here you will not find the chain stores you are used to find in other cities in Sweden. Instead, there are many small and personal stores you won't find anywhere else. This is a It has a small tight knit community full of friendly people who are proud to call Åmål home.