De Pere Riverwalk and Wildlife Viewing Pier
---
The De Pere Riverwalk is located in the center of downtown De Pere, along the east side of the Fox River and
adjacent to the De Pere Dam. The project will establish a recreational walkway that creates new public
access to the Fox River and gives rare exposure to a treasured Historic District. Visitors and residents will be
able to walk directly from downtown restaurants, shops, and hotels to this site and immediately be
surrounded by spawning fish and other wildlife, while being immediately adjacent to the Fox River Trail, De Pere
Locks and Lock Tender House, and the De Pere Dam. The De Pere Riverwalk will have a tremendous impact
on education, fishing, wildlife, tourism, as well as the local economy. The project is estimated to have an annual
$1.9 million impact on the local economy. The project has received support from many organizations, including
the Greater Green Bay Visitor and Convention Bureau, U.S. Fish and Wildlife, Fox Valley Navigational System
Authority, De Pere School District, West De Pere School District, De Pere Chamber of Commerce, Green Bay
Area Chamber of Commerce, St. Norbert College, and numerous others. With public access available to
Government Island, the local Historical Preservation Committee has begun an initiative to renovate the lock
tender's house with the intent to transform the building into a walking museum, highlighting the history of the
Fox River and De Pere.
---
What Is It?

Island Pathway with lighting

Interconnecting walkway to downtown

Where Is It?

The project begins in Voyaguer Park. From the park it crosses a channel to Government Island and then runs south through the island to where the old Claude Allouez Bridge used to be. From this point the project ventures out into the river as a viewing pier.
Purpose:
Link rare wildlife and fish viewing opportunities to Downtown De Pere
Increase accessibility to the De Pere locks
Enhance existing tourism and activities
Promote family, embrace history, educate, embrace wildlife, grow economy/downtown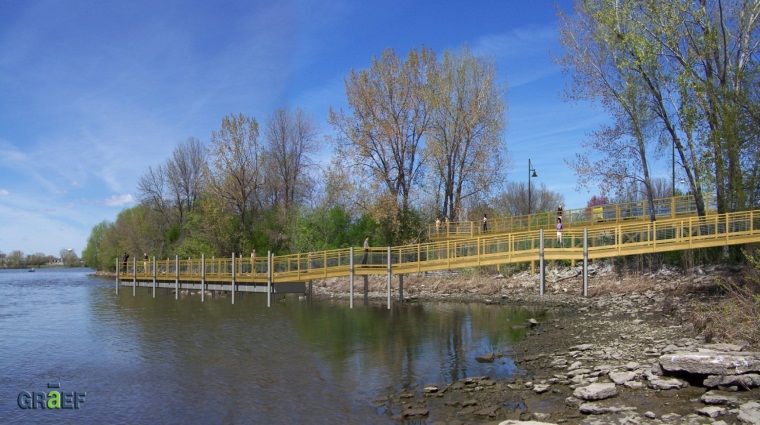 ---
For more information contact: